Stir-Fry Opo With Ground Pork
SocaliJL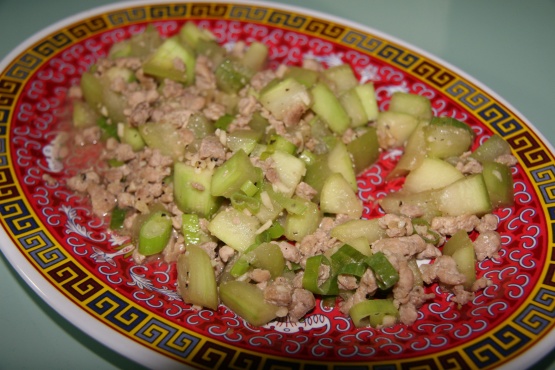 Opo is an Asian squash with a flavor similar to zucchini. It looks like a long light green gourd. To prepare, I rinse, peel, seed, and chop into 1" cubes. I often stir fry this or put this in a simple soup with ground pork and onions.

Wow! It so yummy. I added some vermicelli because I only have 1 opo at home. The taste came out so good and delicious. The vermicelli work so well with opo.
Heat wok with oil.
Stir fry garlic for 1 minute.
Add ground pork and brown.
Add diced opo, fish sauce, soy sauce, sugar, and ginger.
Stir-fry until cooked for about 10 minutes or until slightly soft, don't overcook.
Add green onion at the end with pepper to taste.
Serve immediately with steamed rice.