GaylaJ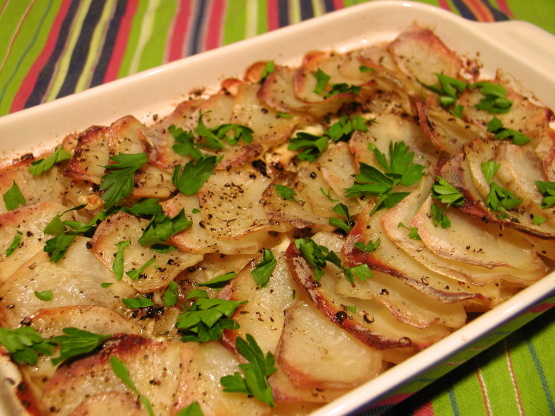 A potato recipe for you blue cheese lovers out there! Very easy to make and it tastes wonderful-great with steaks!

This is so easy to fix, very tasty & also works well to fix ahead & warm b4 serving. I made this for a dinner party where guests were known to like blue cheese ... the only drawback I see. Some just don't care for blue cheese, but we do & we loved this!
Preheat oven to 350 degrees.
Butter (or spray with Pam) a 13X9X2 inch baking dish.
Arrange 1/3 of potato slices in bottom of pan, overlapping slightly.
Sprinkle half of cheese over potatoes.
Sprinkle with salt and pepper and arrange half of remaining potatoes over cheese.
Sprinkle with the rest of the cheese and arrange the remaining potatoes over the cheese.
Pour broth over, sprinkle with salt and pepper and dot the top with butter.
Bake potatoes until top is golden brown, potatoes are tender, and liquid thickens, tilting pan occasionally to baste top layer of potatoes with broth mixture, about 1 hour and 40 minutes.
Transfer pan to rack and let stand 5 minutes.
Serve hot.