Noo8820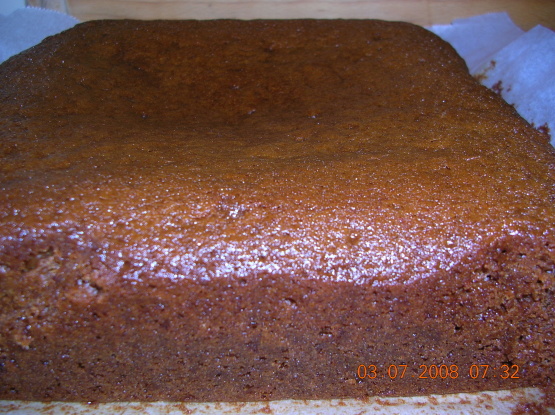 This recipe takes no time at all to prepare, and is simply delicious. It's perfect for a well deserved tea/coffee break, but equally good served slightly warm with some good vanilla ice cream. My two young children love this cake-my 3 year old son calls it Mummy's special ginger cake! It keeps very well and freezes well too!

What a yummy snack cake! I didn't have a 9 x 11 pan, so I used a 9 x 13, which worked just fine. I loved the strong flavor of ginger in this cake, as well as the fact that it wasn't overly sweet, as so many desserts can be. I found that it was a touch on the dry side, but that will be fixed when I serve it with some creme anglais. This is a definite make again, I look forward to serving it during the holidays. Thanks for posting a great recipe!
Set oven to 160°C Grease a 11 x 9" tin with baking parchment.
Sift the flour, ginger, baking powder, bicarbonate of soda and salt into a bowl. Place the sugar, butter, syrup and treacle in a pan and heat until the butter has just melted. Don't allow it to get too hot.
Stir in the milk then beat in the egg. Pour in the dry ingredients and beat together.
Pour immediately into baking tin and bake for 1-1/4 hours until firm to the touch. Allow to cool for 10 minutes, then turn out of tin and allow to cool completely.
NB You can also add a few finely chopped pieces of stem ginger to the mix if you wish.