Steamed Pork Tenderloin Medallions
Chippie1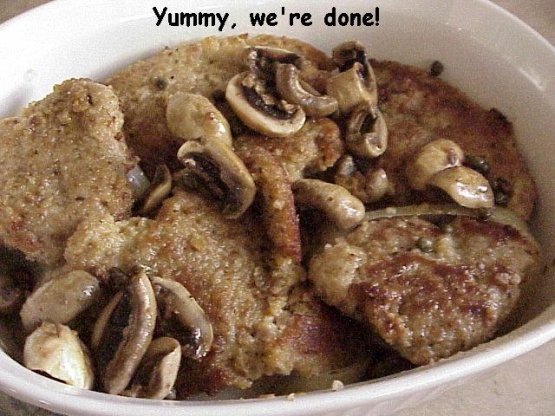 A different way to serve pork tenderloin. The tangy taste of wine & lemon juice is definately different. Steaming the pork makes it so tender and delicious. My girlfriend uses this recipe for city chicken and it also tastes great. Give it a try, you won't be disappointed
Slice pork into serving pieces.
Using the flat side of a meat mallet, pound each slice to 1/4" thick.
(Doing this in a plastic baggy works well) Dip pork slices in egg and then coat in bread crumbs.
Heat olive oil in an electric frying pan to 325 degrees.
Brown pork slices for approximately 2-3 minutes per side.
Remove pork from pan and keep warm.
Pour wine& chicken broth into pan while scraping brown pieces from bottom of pan and reduce heat to 175 degrees.
Place onion slices and mushrooms in pan to cover the bottom.
Then put pork pieces on top of veggies.
Pour lemon juice over meat and sprinkle with capers.
Steam meat for approximately 20 minutes or until onions& mushrooms are tender.