Steamed Chicken and Coconut Shumai (Dim Sum)
Pneuma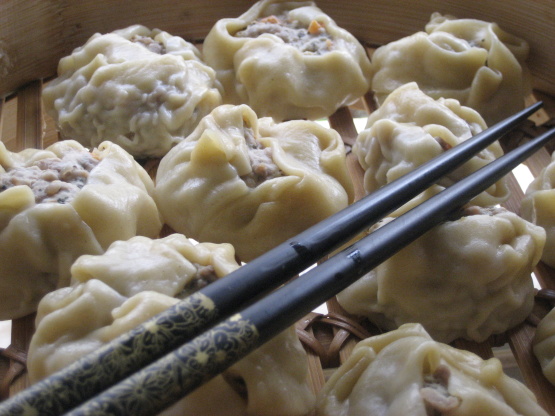 shumai are the open topped dumplings you see at dim sum. This is a unique filling for the normal beef, shrimp or pork shumai and yummy.

Wow! I treated myself to a food steamer during the holidays and the most I've done in it is tilapia and vegetables. This was my first attempt at anything like this. Since I do very little measuring, only I am to blame for what may or may not turn out well. My patience sometimes fails me and any opportunity to use my Ninja........well, it saves the day. It reduced the chopped carrot to a fine, fine mince along with the ginger and shallot. The rest I incorporated by hand. Sans thai chili and fresh basil, I threw in a generous couple of pinches of dried basil to impart that particular flavor. The coconut milk REALLY does the job. The filling was perfect. Also when the author states to not crowd them in the steamer, they **mean** it. Otherwise you'll end up with a tasty quilt of dumplings ;o) Since I have an aversion to too much heat, I decided to forego the hot sauce and instead drizzled the dumplings with the leftover coconut milk. Make these.............you will not be disappointed!
In a large bowl, combine the ground chicken with the coconut milk, carrot, chiles, basil, fish sauce, sugar, lime juice, garlic, egg, shallot, ginger, salt and pepper. Using your hands, mix thoroughly.
Hold a wonton wrapper in the palm of your hand; keep the rest covered with plastic wrap. Place a rounded tablespoon of filling in the center of the wrapper and pinch the edges all around to form a cup that is open about 1 inch at the top. Keep the shumai covered with plastic wrap. Repeat with the remaining wonton wrappers and filling.
Fill a wok or a very large skillet with 2 inches of water and bring to a boil. Line a double-tiered bamboo steamer with lettuce leaves and arrange the shumai in the steamer without crowding. Cover and steam over moderate heat until cooked through, about 10 minutes. Repeat with the remaining shumai. Serve right away, passing the chili sauce at the table.