Steak and Mustard Cream Potatoes
jenne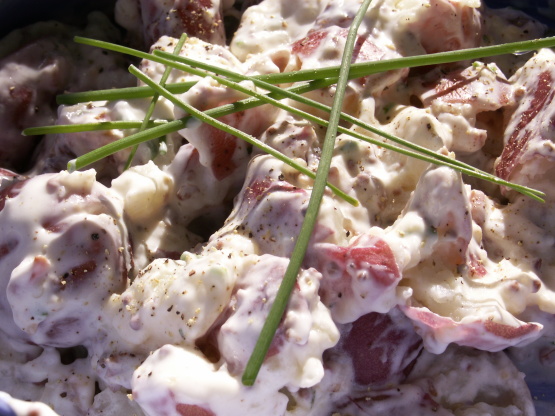 From Super Food Ideas July 2008. Sounds delicious and the photo had me drooling. Don't know when I will get the chance to try it, so times are estimates. Will post any changes when I do.
Cook potatoes in a saucepan of boiling salted water over medium-high heat for 10 minutes or until tender.
Drain, cool slightly.
Transfer potatoes to a chopping board and using your palm gently press potatoes to flatten slightly.
Meanwhile heat oil in a non-stick frying pan over medium-high heat and add bacon and cook stirring occasionally for about 5 minutes or until browned and crisp.
Add garlic and cook for a further 1 minute.
Transfer bacon and garlic to a large bowl.
Return fry pan to a medium-high heat.
Spray both sides of steak with oil and season with salt and pepper.
Cook steaks for 4 to 5 minutes each side for medium or until cooked to your liking and then transfer to a plate and cover with foil to keep warm and rest for 5 minutes.
Add potatoes, sour cream, mustard, chives and lemon juice to bacon mixture and toss gently to combine.
Serve steaks with potato mixture.