PaulaG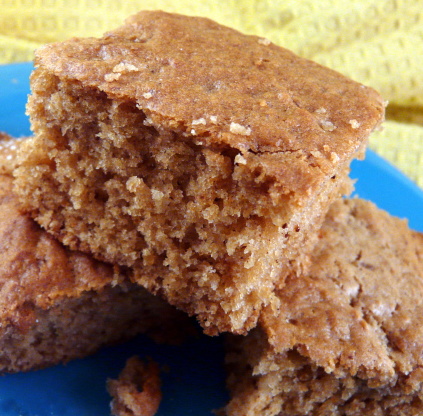 Please note I have not tried this as yet and I really prefer posting recipes that I try firstly but this was submitted for a request on the boards. I am not claiming it to be the *real* Starbuck's gingerbread, but it may be very close. There was no mention as to what size pan to bake it in so use your own judgment. I assume by the amount of ingredients an 8x8, 9x9 or an 11x7-inch pan would work fine.
Set oven to 350°F.
In a bowl cream butter with sugars and vanilla until fluffy.
Beat in eggs, orange zest and fresh minced ginger, water and applesauce until well combined.
In a bowl sift together flour with cinnamon, cloves, nutmeg, mustard powder, baking powder, baking soda and salt; add to the creamed ingredients and beat until combined.
Mix in the candied ginger.
Pour into a well greased baking dish and bake for about 35-40 minutes or until cake tests done.