Mandy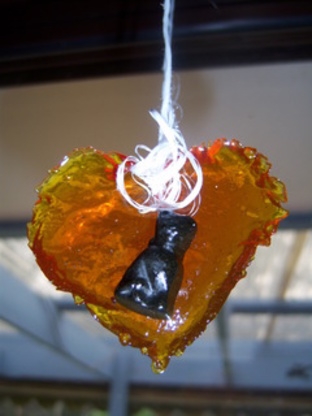 I saw this recipe on cooking.com and thought it was so cute. My neighbor often does holiday projects with her grandchild and other small relatives and I get to tag along. Hoping we can do this one. If you have the right cookie cutters, these could work for any holiday.

Top Review by Mandy
This was a fun activity for my DD & I but I agree with Nyte. This is quite intricate & it's really hard to get the foil to mould around the cutters without ripping. I too used spray oil & some leftover Barley sugar I had in the cupboard. My results weren't very pretty but 2YO DD doesn't know any different so she had a blast.
cookie cutter (such as pumpkin, ghost, cat, and bat shapes)
heavy-duty aluminum foil

2

tablespoons canola oil or 2 tablespoons safflower oil
1⁄2 lb hard candies, in assorted colors (the original recommends Jolly Ranchers)

2

yard satin baby ribbon or 2 curling ribbon, 1/8-inch wide
Preheat an oven to 350 degrees.
Line the bottom and interior sides of the cookie cutters with aluminum foil. As best you can, keep the foil smooth as crevices in the foil with transfer to stained glass. Alternately, you can intentionally use the foil to give a creepy texture to the final product. Lightly, brush the foil lightly with the oil. Set on a baking sheet.
Arrange the hard candies in a single layer on the foil bottom of the cookie cutter. Because of their thickness, Jolly Ranchers work best, but you can also use Life Savers also work. Bake until the candies melt, about 10 minutes.
Remove from the oven, let cool for 1 minute, then poke a hole in the top with the wooden skewer. Allow the stained glass pieces to cool completely, then pop out the stained glass shapes from the cookie cutter and peel off the aluminum foil.
Thread the ribbon through the hole.
Hang in a sunny window.