Sri Lankan Chicken Curry (Kukul Mas Curry)
Prep 20 mins
Cook 50 mins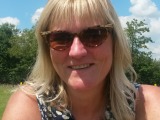 I (slightly) adapted this recipe from a book by Charmaine Solomon and have been cooking it for approx 18 years. I often add various veg (we like small eggplants and okra), if I do I add another tin of chopped tomatoes to make more sauce. Goes very well withSri Lankan Yellow Rice (Kaha Bath) recipe number 268510. Originally the recipe serves 2-4 however if you add the optional veg and tomatoes then it stretches to about 6 depending on how much extra you add :)
Directions
Heat the ghee in a large pan and fry fenugreek and curry leaves until they start to brown.
Add onions, garlic and ginger and fry gently until onions are quite soft and golden.
Add turmeric, chilli, coriander, cummin, fennel, paprika, salt and vinegar.
Stir well.
Add chicken and stir over a medium heat until chicken is thoroughly coated with spices.
Add tomatoes, whole spices and lemon grass.
Add chopped vegetables at this point if using.
Cook, covered, over a low heat for 40 - 50 minutes.
Add coconut milk, taste and add more salt and a squeeze of lemon juice if required.
Do not cover after adding coconut milk.
Serve with rice.
Most Helpful
Great recipe, I used lime juice instead of the vinegar, chicken thighs and added a cup of sliced shitake mushrooms. It was enjoyed by all!
A delicious curry, and worth that little bit of extra time it takes - not overly hot, but jam packed with wonderful flavours - thanks so much for posting

Good curry. Used about 11/2lbs skin- and boneless chicken thighs, about 11/2 cup sliced mushrooms and two cans of chopped tomatoes. Also used balsamic vinegar. At the beginning I thought the amount of cumin would be too much, but the spices are very well balanced. I got a lot of sauce which is great. You say it serves 2-6 but (at least the way I made it), I got five servings. It freezes well and I am very pleased I chose to make this curry. Thanks for posting. Made for PAC, Spring 2009.