Spring Salad With a Really Cool Dressing!
Rita1652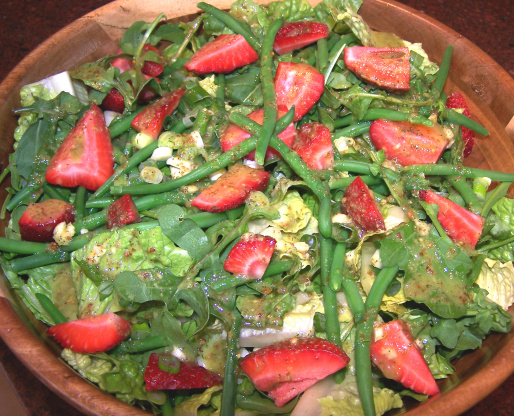 I came up with this simple spring salad when my garden gave me a bunch of arugula coming up from last years seeds. Then at Trader Joe's was French green beans right from France. And fresh strawberries................. I added spring scallions and my fabulous dill mustard dressing made with my Flavored Sugar or Splenda giving this dressing a what is that flavor? But go ahead and use you favorite sugars........ This is so healthy and yummy you may feel guilty eating this.

With one quick substitution, I changed this from a spring salad to a fall/winter salad by replacing the strawberries with an heirloom Christmas apple (pomme d'api). The apple certainly wasn't as colorful as a strawberry but it tasted good nevertheless. As for the dressing one warning: very tangy and very sweet. I loved the combination of tangy/sweet with the bite of peppery arugula. Delicious salad I plan to make again and again. I realized quite later on that I forgot to add the basil but I have no doubt it adds dimension to this salad. Thanks, ~Rita~!
Salad

1

bunch baby greens, washed and drained (or 6 cups romaine lettuce, washed, drained and rough chopped)

1

bunch arugula, washed and spun dry
1⁄4 lb French haricots vert, frozen french green beans, blanched and cold plunged

3

scallions, sliced thin

1

cup fresh strawberries, quartered

Dressing

1

tablespoon Grey Poupon (harvest coarse ground)

1

tablespoon fresh dill weed

3

leaves fresh basil

3

tablespoons white balsamic vinegar
1⁄4 teaspoon black pepper
1⁄4 teaspoon salt

1

tablespoon vanilla sugar (Flavored Sugar or Splenda )
Layer salad in a beautiful spring bowl as listed.
Blend salad dressing ingredient's in a blender.
Pour over salad.
Enjoy!