Pixie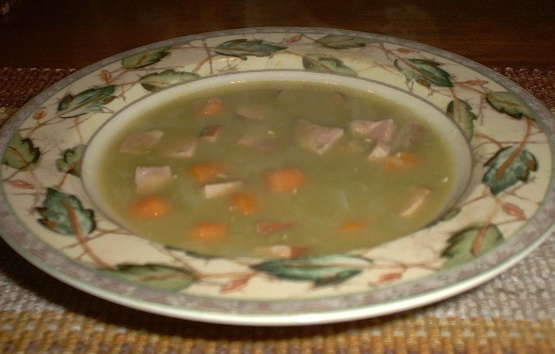 This is a great way to use up a leftover ham bone. This is our favorite version of this soup. Hope you enjoy it.

Top Review by Pixie
This was really good, just the right amount of water to make the soup a good texture. I used some diced thick ham slices instead of the ham bone and it worked fine. I found I didn't need to add extra salt, since the ham tends to be salty enough already. Thanks for sharing this, momstar.
In a 5-quart dutch oven over medium heat, heat bone, split peas, carrots, onion, and water to boiling.
Tie allspice, peppercorns, and bay leaf in a piece of cheesecloth. Add to bone mixture.
Reduce heat to low; cover; simmer 1 hour. Discard spice bag; add salt if necessary.
Remove bone to cutting board. Cut off meat and discard done.
Cut meat into bite-size chunks and return to soup for serving.