Splenda Blend Sour Cream Pound Cake
chia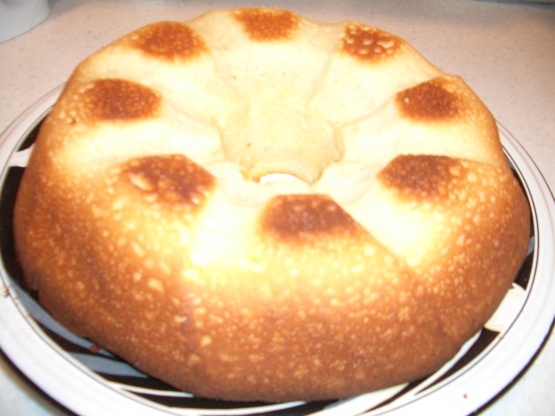 A delicious dessert, always keep a pound cake in the freezer for a beginning of a delicious dessert. Toast or grill slices of pound cake and top with fresh fruit or your favorite topping or ice cream.

It's a little hard to know how to rate this one.... We topped with rhubarb sauce and whipped cream, which was very nice all together. I made half the recipe and baked it in a 9x5 loaf pan. I ended up baking it for 1.5 hours and it finally baked through. The top never turned golden and was fairly dry - and the middle was quite dense. I followed the instructions as indicated although I used lemon extract instead of vanilla and added 2T of poppyseeds. I used Splenda blend as described in the directions (although ingredients note plain Splenda). This was my first time making a pound cake so maybe I goofed something. Even so, both my DH and DS woke up and had a piece for breakfast this morning; I also had a bite and felt that it tasted better (less dry) today than it did last night when I made it.
Preheat oven to 325°F; GREASE and flour a 10-inch tube pan or a 12-cup BUNDT pan; set aside.
Combine flour, Splenda Sugar-Blend for baking, and soda in a large mixing bowl; cut butter into flour mixture with a fork or a pastry blended until crumbly, (this procedure may be done with a mixer at the lowest speed, cover mixing bowl with a tea towel to prevent spattering, I have a guard that fits on my mixer bowl-Kitchen Aid).
Combine eggs, sour cream, and vanilla in a small mixing bowl; add 1/4 of the egg mixture to flour mixture; beat on low speed of an electric mixer until blended; beat at medium speed for 30 seconds or until batter is smooth, stopping to scrap down sides of bowl; REPEAT PROCEDURE 3 times.
Spoon batter into prepared pan; Bake for 1 hour and 20 minutes or until a tooth pick inserted in center comes out clean, cool in pan on a wire rack 10 minutes; remove from pan, cool completely on a wire rack.