Spinach Rockefeller Roulades
Nimz1466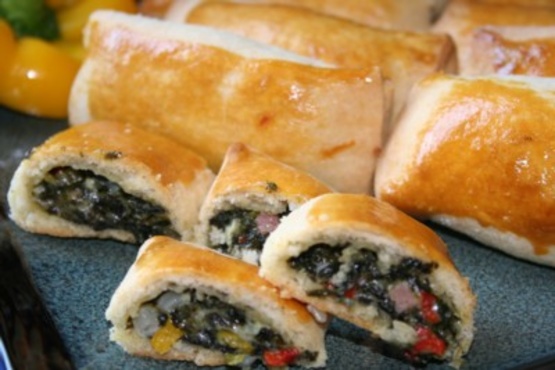 This recipe comes from a local chef, John Folse. You may make the spinach mixture in advance and refrigerate allowing the flavors to develop.

These are just excellent. However, the amounts were way off for me. I made Miller's Puff Pastry recipe #16834 and measured my 6 four inch squares, and filled each square with 2 tablespoons of the spinach mixture and I still had over half the spinach mixture left. I had enough pastry to make 1-2 more and still had a huge amount of spinach mixture left over. I'm going to wrap it in a tortilla and bake it sometime in the next couple of days. Luby you might want to recheck the original recipe. Or do tell, I certainly could have messed it up, but I'm pretty darn sure I followed the recipe to a T. Anyway, this is certainly worth trying, bearing in mind that you may have extra filling. One other think, the egg yolk brushing makes these look like you put a thin coat of mustard on it before baking. I'll leave that part out next time.
Preheat oven to 375 degrees.
In 5 quart heavy dutch oven heat butter over medium heat.
Add onions, celery, bell peppers, jalapenos and tasso.
Saute for 5 minutes or until vegetables are soft.
Add spinach to vegetables mixing well and cooking for approximately 5 minutes.
Add flour, stirring well.
Add heavy whipping cream and cheese.
Season to taste with salt, pepper, and hot sauce.
When cheese has melted remove from heat and allow to cool.
Remove puff pastry sheets from freezer and let thaw for approximately 5-10 minutes.
Cut pastry sheets into 6 pieces, four inches square each.
Spoon approximately 2 tablespoons of the spinach mixture into the center of the pastry square and spread evenly from end to end.
Roll, jelly roll style, making sure that the seam end is well sealed.
Please seam side down on large baking sheet and continue with remaining sheets.
Brush top lightly with egg.
Bake until golden brown approximately 15-20 minutes.
Slice in 1/2 inch slices for an hors d'ouvres.