Spinach Cakes With Gouda Cheese Sauce
Derf2440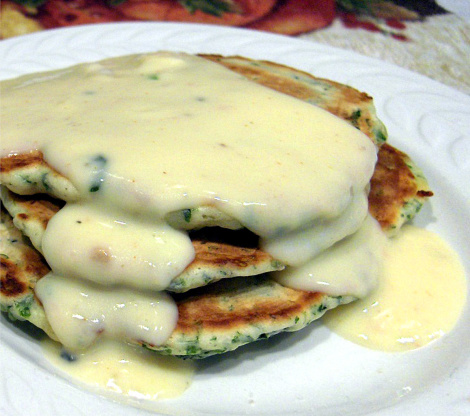 A great side or use for a brunch.

OMG Derf. These are delicious!!!! Derf's photos of these golden spinach cakes with oh so creamy looking cheese sauce made me try these. They did NOT disappoint! I used skim milk, whole wheat flour, and regular gouda as I could not find smoked. Delicious as is. The cakes are moist and fluffy and the sauce is the perfect consistancy and oh so smooth with just enough of a bite. Thank you for this incredible side dish. Too bad you were too late for RSC..this could have been the winner. :)
THE CAKES.
Mix in a large bowl, the flour, baking powder and the salt; separate the spinach as much as possible and add to the flour mix with the shredded cheese, mix well and make a well in the centre, set aside.
In another bowl mix together the eggs, milk, sun dried tomatoes with their oil, mix well and pour into the well in the flour mix; Mix only until well moistened. Dough will be lumpy.
On a grill or a large fry pan drop 1/4 cup of dough, spread lightly, do not crowd. Grill 'til bubbles appear on the edges and the cake raises; about 3 to 4 minutes flip and brown the other side; remove to oven proof platter, keep warm in a 200°F degree oven. Repeat until all batter is used.
SMOKED GOUDA CHEESE SAUCE.
Heat butter in saucepan; mix together flour, cayenne and dry mustard; add to butter, stirring constantly until thickened, about 1 minutes.
Slowly add milk while constantly stirring with a whisk. Bring to boil while whisking, when thickened remove from heat. Immediately add shredded smoked Gouda cheese, stirring until melted; keep warm.
PUT TOGETHER.
Arrange cakes in a pile on platter; pour cheese sauce over and let drip down sides.
Or serve cheese sauce separately and pour over cakes on separate plates.