Cynna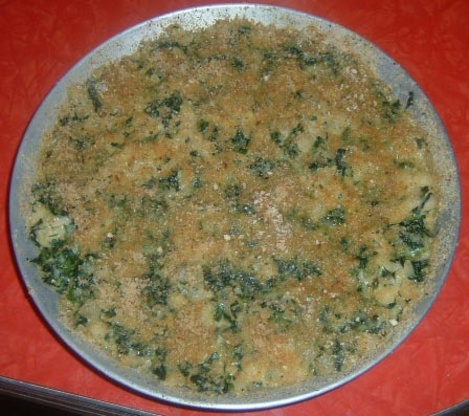 A yummy vegetarian casserole with the slightest bit of a kick. This dish is rich, cheesy, delicious, and healthy! I use "The Beast" hot sauce in this and it gives a nice subtle flavor to the filling.

This was comfort food! I did use freshly steam spinach and garlic herb flav. bread crumbs. I sprinkled crushed red pepper flakes on mine.The texture is what made this casserole stand out: slightly crisp on top, cheesy insides (like mac n cheese), and cut great.It was great piping hot, warm, and cold, too. I really couldn't ask for anything more! Thanks, Cynna, for postin.
Preheat oven to 350 degrees.
Bring large pot of salted water to a boil and grease a 9-inch deep pie pan.
Sprinkle pie pan with two tablespoons of breadcrumbs, tilting to coat evenly.
In a small bowl, mix remaining breadcrumbs with 1 tsp olive oil and set aside.
Heat 2 tsp olive oil in small skillet.
Add onion and cook until softened.
Add macaroni to boiling water and cook until just tender.(About 5 minutes).
Drain and rinse under cold water.
In large bowl, wisk together eggs, milk, hot sauce, salt and pepper.
Stir in cheese, cooked onion, spinach and macaroni.
Pour into prepared pan and top evenlly with breadcrumb mixture.
Bake uncovered for 45 minutes until lightly golden and tip of knife comes out clean.
Cut into wedges and serve.