Spinach and Mushroom Casserole
Lori Mama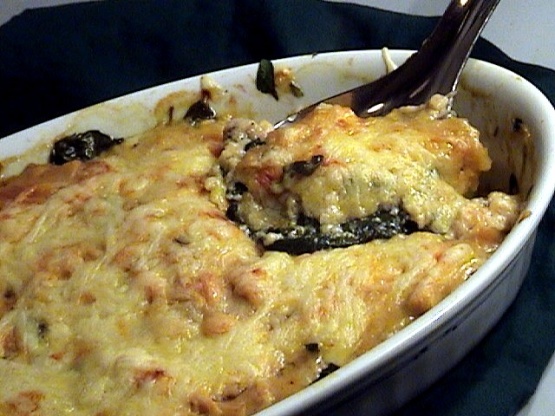 If your family is sitting on the fence about spinach, you will want to give this recipe a try! This casserole will melt in your mouth and will convince your family that spinach should be served much more often! This is a "Company Worthy" recipe that will satisfy the most discriminating. Hope you enjoy it!

absolutely delicious! i used 2 bags of fresh spinach, sliced button and cremini mushrooms and followed the recipe. we really enjoyed this dish
Preheat oven to 325 degrees.
Wash fresh spinach, drain well and chop coarsely, or drain frozen spinach very well after thawing.
Melt butter in saucepan, saute onion and mushrooms for 5 minutes.
Blend in flour, salt, pepper and nutmeg.
Add cream gradually, stirring steadily to boiling point; cook over low heat 5 minutes.
Arrange successive layers of spinach and sauce in a buttered 1 1/2 qt casserole ending with sauce.
Sprinkle with cheese.
Place in a shallow pan of hot water.
Bake for 45 minutes.