Spicy-Sesame Oven Fried Potatoes
GaylaJ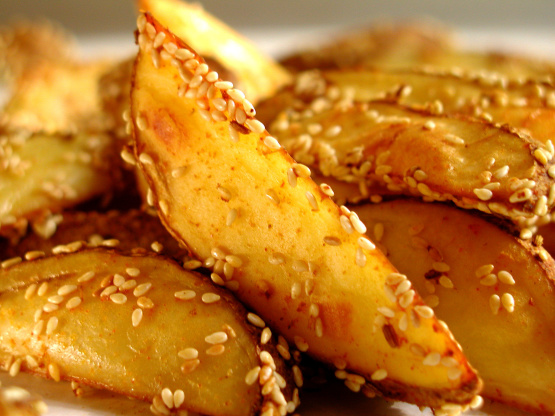 These potatoes are a treat! I like them with chicken or burgers. Substitute peeled sweet Potatoes and follow the same recipe. I use my baking stone (covered with a piece of parchment paper). It seems to give a special crunch to the potatoes I say it serves 4 but if you love potatoes it may only serve 2

I really like sesame seeds. I keep a jar of toasted seeds in my fridge at all times. So, needless to say, I liked this. I did eliminate the fennel as I'm not fussy on them but did add a load of garlic to take its place. Another winner Bergy.
Pre heat the oven to 400F Place cut potatoes in a bowl or plastic bag Drizzle with the oil Mix together the sesame seeds, cayenne, paprika and fennel seeds Sprinkle over the potatoes and toss coating evenly.
Place wedges on a baking sheet bake for 20 minutes, turn and continue baking for 20 more minutes (check after 30 cooking time will vary due to different sized wedges) Sprinkle with salt& Serve.