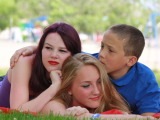 Tangy and sweet, this sauce is a great compliment for grilled chicken or ribs. The longer you let it simmer, the spicier it will taste. The trick to this sauce is to start with the basic ingredients and then gradually add more of your favorite spice until you reach YOUR desired taste. I like it spicy but you might prefer it sweet. Be careful with the orange zest because it will overwhelm the other flavors if you use to much.
Directions
In a med. saucepan over med. heat. Simmer Ketchup, honey, sugar and butter.
Stir constantly until butter is completely melted - Do not boil!
Add other ingredients- simmer 10 minutes and taste.
Gradually add additional seasoning until desired flavor is reached. (ie. Spicier- more pepper, sweeter- more honey.)
IMPORTANT.
When adding ingredients do not exceed 1/8 teaspoons at a time. After you add, let it simmer for at least five minutes This will bring the flavors and give you a more honest taste.
Also if you boil it you'll most likely burn it, so stir constantly.
Most Helpful
I made this late at night and read "1 small orange, zest of" and away I went zesting the entire orange. Needless to say, the sauce had an overpowering orange flavor! This weekend we experiemented with 4 new bbq sauces; this being one. I was skeptical about the outcome and placed it at # 4 favorite. BBQing brought out the best in the sauce and enhanced the orange flavor, propelling it to the #1 slot, our favorite sauce of the weekend. Next time I plan to use less orange zest but this is one instance where a mistake turned out great!

I made this sauce tonite and will baste a pork loin roast tomorrow.I added the juice of the orange.I also omitted the herbs and added some minced fresh ginger.This sauce is alot different than our KC BBQ sauce,but change is good once in awhile.
Wow! What a kick. I made this in the crockpot with a pork roast. Because I was making this recipe to review for PAC-2006 I used the amounts listed in the recipe. The only changes I made were to stop with the worcestershire sauce at 1/2 cup. Only because when I got there the flavors seemed to meld together perfectly. Instead of cooking the sauce separate, because I was using the crockpot, I mixed everything together and poured it over the roast. I let it all sit overnight in the fridge and turned it on in the morning. We came home to dinner waiting. After cooking all day it really had a kick. If you don't like things spicy go easy on the peppers and hot sauce. I also like my BBQ sauce on the sweet side and so I added another 1/4 cup of brown sugar and let it cook a little longer while I made the sides. Then I shredded & "pulled" it with forks and enjoyed! This was some of the best BBQ pork I have had. The orange zest really makes it stand apart from the crowd. Thanks for another good one T-3!