Wendy H.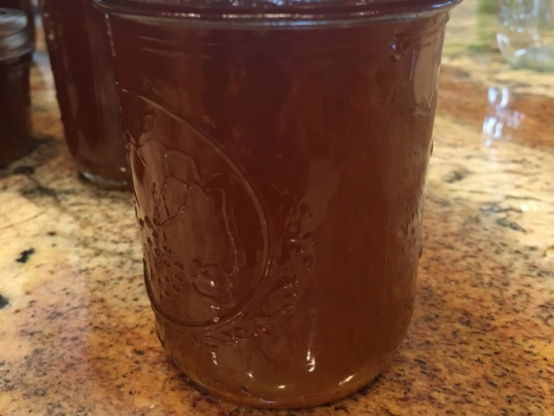 I do recommend wearing gloves. This is sweet & spicy so beware. This is great served over cream cheese.Try adding it to your favorite barbecue sauce for a little extra kick. Spread it on your sandwiches. I've added it to salsas. You can also make this with jalapenos and green bell pepper to get a milder jelly.As in the picture. Some recipes using the jelly!

This really is a great recipe! I followed everyones warning, and wore gloves and a bandana over my face. I'm so glad I did! I also added a small container of raspberries to this and slightly less habanero. Its really beautiful in color, and the berries added another layer to the sweet spice combo. Canned it up in 12 4oz jars for gifts and ended up with half of a half pint leftover for myself! I'm enjoying a piece of toast with goat cheese and my RaspBanero jam right now, and its so good. Thanks!
1⁄2 lb red habanero peppers or 1⁄2 lb yellow habanero peppers or 1⁄2 lb orange habanero pepper, washed, drained, stems and seeds removed unless you want extra spicy
1⁄4 lb bell pepper, color your choice washed, drained, stems and seeds removed

2

cups cider vinegar, divided

6

cups sugar

6

ounces liquid pectin, 2 packets (I`ve made this Oct 2010 with 1 packette and jelled beautifully)
yellow food coloring (optional) or orange food coloring (optional) or red food coloring (optional)
Puree peppers and 1 cup vinegar in blender (be careful of your eyes HOT FUMES).
Combine puree 1 cup vinegar and sugar in a large saucepan.
Bring to a boil and boil for 10 minutes stirring constantly.
Stir in pectin stirring while boiling hard for 1 minute.
Remove from stove and skim foam.
Stir in food coloring till eye appealing.
Or skip if you like as is.
Ladle hot jelly into clean hot jars,leaving 1/4 inch head space.
Adjust caps Process 10 minutes in boiling water canner.