KGCOOK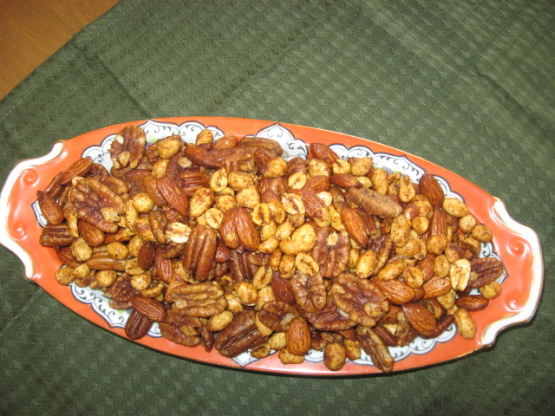 My Husband found this recipe one day while at work. He brought it home to me and said "Let's try this for Christmas" and so we did. Not over spicy and not hot but you can heat it up if you want to! A very simple recipe to make. Add more or less of your favorite seasonings!

I used only almonds because that is what I had on hand. I followed the seasonings the way that it said, but there was hardly any flavor. I doubled the garlic salt and the pepper. I added 1 T of onion powder and tripled the amount of the chili powder. This finally gave it enough flavor. They are now very good.
Heat oven to 300 degrees.
Put butter in a 13 X 9 baking dish.
Heat the butter in the oven (in the baking dish) till melted.
Remove from oven and add the Worcestershire sauce and mix it around.
Add all the nuts and mix well to coat.
Smooth even in dish and return to oven.
Bake at 300 for 15 minutes.
Remove, stir, even out and return to oven.
Bake another 15 minutes.
Remove and stir.
Mix seasonings together and sprinkle over nuts.
Mix well to coat.
Serve immediately or store in an air tight container.