Mary M.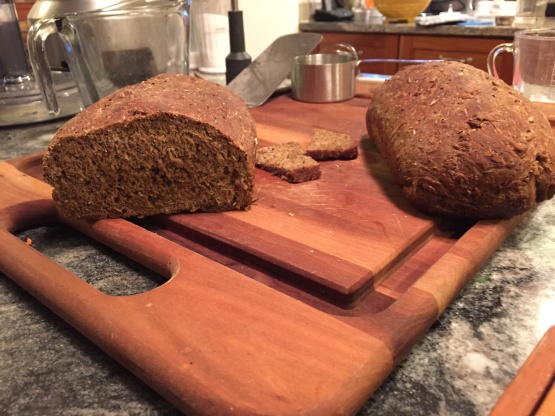 I am a homebrewer and brew all grain beer. As a byproduct of mashing 10+ lbs. of grain to make wort for beer, you have 10+ lbs. of grain to use. I hate to dispose of anything, especially food, I wanted to find a good way to use this leftover grain. I use some of the grain for this bread recipe and put the rest into compost for my outdoor plants. Really there is no true combination of grain, I just use whatever I used to brew beer with. It all gets mixed together during the mash so it is never the same blend, but that keeps it interesting!

We made this recipe yesterday evening, after earlier in the day brewing an American Pale Ale. Since we had approximately 7.5 Gallons of Wort, in place of the water called for in this recipe we used the wort (Unfermented Beer), went together like a charm. As a matter of fact, once we'd added 7.75 measuring cups of flour, it doubled in bulk in about 30 minutes. The reason I'm not giving it 5 Stars is, it didn't brown like the recipe says it should. Luckily I've baked enough bread (all kinds) so I figured it out.
3

cups of spent grain (wet)
1 1⁄2 cups warm water (~100 F)

1

(1 tablespoon) packagedry bakers yeast
1⁄3 cup sugar (white or brown)

3 -5

cups flour

1

dash salt (optional)
Proof yeast in mixture of water and sugar (make a starter). You should see krausen in less than an hour.
Put spent grain in large mixer bowl. Mix in starter, and start adding flour. Keep adding flour until the dough is smooth and no longer sticky. Place dough in a large bowl, cover with a clean towel, and let rise until doubled. Punch down dough, and either:.
A) Split into two loaves and place in greased bread pans.
B) Form into a round loaf and place on cookie sheet with a thin layer of corn meal under the loaf.
Allow loaf(ves) to double in size, bake in 375 F oven 30 to 40 minutes until browned and a long pin, such as a turkey pan, comes out clean after being inserted into the center of the loaf.