Speedy, Spicy Lentil Soup
mikey ev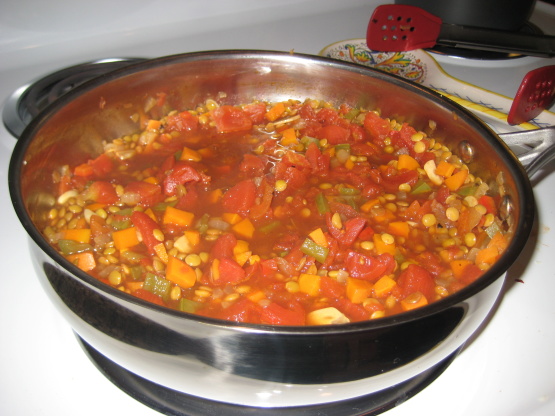 What I would give to have this right now... Serve with whole wheat dinner rolls.

This was just ok. The flavor was lacking, even with all the garlic. We added oregano and srirachi hot sauce and red pepper flakes, but it still needed more. It was more like a liquid-y stew than a true soup, and definitely more tomato-y than lentil-y. I won't make this again, but it was worth a try. At least it's healthy!
Heat oil in large saucepan over medium-high heat.
Add onion; cook 5 minutes, stirring occasionally.
Stir in carrot, bell pepper, and garlic. Cook 3 minutes.
Stir in remaining ingredients except salt and pepper. Bring to boil over high heat.
Reduce heat; simmer, uncovered, 25 to 30 minutes or until lentils and veggies are tender.
Season to taste with salt and pepper.
Remove bay leaves.
Serve with rolls.