Olive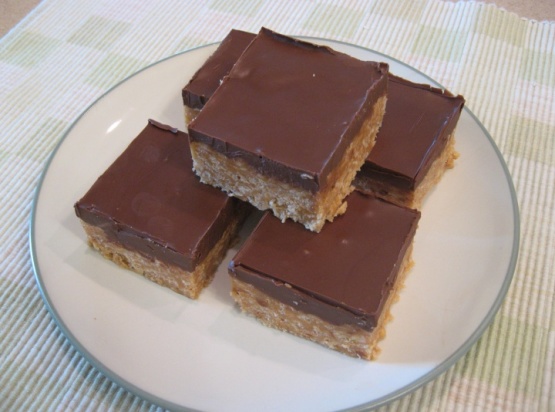 I got this recipe back in the 70's from a friend whom I worked with. It is a simple and delicious bar to make.

The key to making these bars chewy and not hard as a rock is the amount of time that you let the sugar and corn syrup boil. As soon as they hit the boiling stage, remove the bowl from the micorwave. The longer you allow this mixture to boil, the harder it gets. Trust me, I have done it both ways.
236.59

ml granulated sugar

236.59

ml Karo syrup

340.19

g jar crunchy peanut butter

1419.54

ml Special K cereal

170.09

g package semi-sweet chocolate chips

340.19

g package butterscotch chips
In a large mixing bowl, mix sugar and Karo syrup; microwave on high for 3-4 minutes, or until sugar is completely dissolved. Remove after sugar is dissolved. Do not boil. This is important. Bars will be hard as concrete if mixture continues to boil.
Remove bowl from microwave; add crunchy peanut butter to the sugar mixture and stir until smooth. Stir in the Special K cereal and mix well.
Pat the mixture firmly into a lightly buttered 13X9 inch pan. Using a lightly buttered or greased piece of waxed paper works great for patting down the mixture.(To make thicker bars -- use a 9x9 pan).
In a medium bowl, combine the chocolate and butterscotch chips and microwave for about 3-4 minutes until melted; stirring once or twice during melting.
Spread over top of cereal mixture. Refrigerate just long enough to set the chips.
Remove, and cut into bars.