Spaghetti With Raw Tomatoes
sheepdoc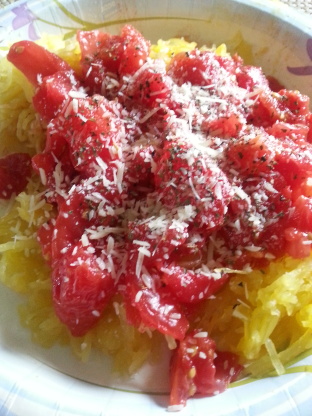 From 'Recipes From An Italian Summer' by the Phaidon Press, the essence of summer served in a bowl.
Place the tomatoes in a large salad bowl, add the oil, basil, and garlic, and season with salt and pepper. Toss gently, cover, and set aside in a cool place.
Forget about the tomatoes for about 30 minutes or so to let the flavors mingle.
Meanwhile, bring a large pot of salted water to a boil. Cook the spaghetti for 8 to 10 minutes, or according to package directions, until it is tender but al dente, or firm to the bite. Drain the spaghetti.
Remove and discard the garlic from the raw tomato sauce. Add the pasta to the sauce, toss, and serve immediately.