Spaghetti Sauce Made With Pork Neck Bone! Italy 1870-1900!
Timothy H.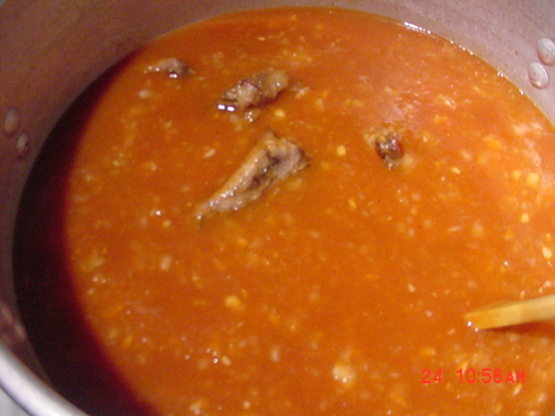 This recipe came from Southern Italy around the 1900's. This is a very nice and thick sauce not running all over the plate. If it's not thick, you didn't cook it long enough. It's great on all dishes that uses spaghetti sauce.I always make at least 1/1/2 gallons of this sauce at a time.It freezes very well in containers. I use containers like the size of the large country crock butter bowl, enough for 4-8 servings at a time and use it when you feel the urge for this sauce. I always try to use it up in 6 months or so, then start all over making another batch.

I was lured by the recipe because it was from 1900's Italy and the pork neck bone 'cause I had never had any of those. I am SO GLAD this recipe caught my eye. It is SOOOOO GOOD!!!!! I loved that all the ingredients were stuff normally kept on hand. It was thick and decadent and soooo perfect! I don't think I've had better in any restaurant. An added bonus was that I got to find out that I love pork neck bones...now to find other recipes I can use those in. Thanks so much for this over the top spaghetti sauce recipe! ** Note: hot pepper flakes were listed twice so I went with 1 1/2 tablespoons as first listed...it had a bit of kick...but not to spicy I couldn't eat it.
In a large pot, add olive oil, smash garlic with clever until flat, add to pot.
Cook garlic until golden brown, not burnt!
Remove garlic.
Add pork neck bones, brown, put garlic back in the pot.
Add tomato sauce, tomato paste and all other ingredients. Simmer 2 hours with lid on. The second 2 hours remove lid stirring occasionally, until desired thickness.
Remove pork neck bones, let cool a little, remove meat from bones, add back to sauce.
The last half hour add cheese. Freezes very well.