Pamela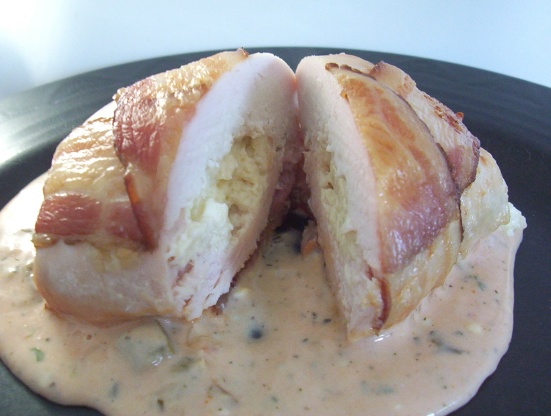 This is a great low-carb dish that makes you feel like you're eating something bad for you :) Its simple and very tasty!

Very tasty and not difficult. I used the same amount of filling for about 1.5 lbs of boneless skinless breasts. That came with three breasts. I didn't have monterey jack so I used american cheese with the cream cheese instead with some diced green chilies in a can. I didn't need the sauce for it, it was plenty flavorful as is!
Remove protective ice glaze from breasts by holding under lukewarm running water for 1 minute Pat dry.
Place each breast between 2 pieces of plastic wrap.
Working from center to edges, pound lightly with flat side of meat mallet to 1/4 inch thick.
Remove wrap.
Season with salt and pepper.
Wash hands.
Combine cheeses.
Divide into 6 equal portions and roll into balls.
Fold one chicken breast around cheese ball to form a bundle.
Lay 2 pieces of bacon in the form of an X.
Place bundle in the center of the cross and bring ends up to meet on top and secure with toothpicks.
(You are wrapping the chicken in the bacon) Repeat with remaining chicken and bacon.
Place bundles in 9x13 inch baking dish.
Bake uncovered in a 350 degree oven about 30 minutes or until tender and no longer pink.
Turn oven to broil.
Broil bundles 3 to 5 minutes or until bacon is browned.
Remove bundles from oven and remove toothpicks.
Mix ranch and salsa.
Pour mixture in center of a serving plate and place chicken on the plate for serving.