Southern Living Basic Yellow Cake Recipe ( or Chocolate)
Swirling F.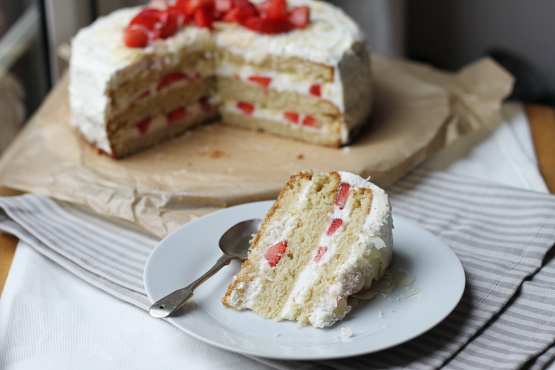 I found this is an older Southern Living cookbook- "Heritage Cakes" . This is a basic yellow cake that yields 2 layers. The recipe is as found: my only changes have been direction clarifications. For Chocolate Cake: Add 3 ( 1 oz.) squares of unsweetened choclate, melted in a double boiler, to the creamed mixture.

Delicous! Used this for my son's two layer birthday cake along with a double recipe of Recipe #44126. Perfect, traditional old-fashioned yellow cake with a heavier crumb. Just a note, if you are used to the light and airy texture of a cake from a cake mix, this will be quite different but so much better :) And you can pronounce all of the ingredients! I used Doughmakers pans which don't usually stick, greased and floured them, then lined with wax paper. Did have some problem with sticking so next time would use a heavy hand with the greasing and flouring. Thanks for sharing the recipe! Southern Living never disappoints!
1. Cream butter then gradually add sugar, beating well .
2. Add eggs, beating well after each addition: this mix should be fluffy yellow.
3. In another bowl, combine the flour and baking powder: The add mix to the creamed mixture ( above) alternating with milk, beginning and ending with the flour mix. Mix well.
4. Stir in vanilla.
5. Pour batter into 2 greased/floured 9" pans. Bake at 350 degrees for 25 minutes or until a toothpick inserted in the center come out clean.
6. Cool in pan for 10 minutes then remove layers from pans and cool completely.