South Beach Diet Faux Ice Cream
smvolpi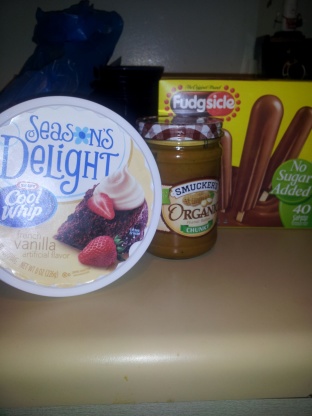 This is a delicious treat that is allowed on all phases (1,2,& 3) of the South Beach Diet. You can substitute slivered almonds, ini choc chips, penuts etc. for the peanut butter.

What a perfect way to doctor up a 40 calorie Sugar Free fudgsicle. I used Cool Whip LITE and JIF all-natural peanut butter. This will become a staple last minute dessert in our household. I'll probably tinker with the amount of peanut butter and cool whip to ensure the calorie count stays low, but this is a keeper. Thanks for sharing.
Place Fudgicle in a microwaveable dish and micro on low for a few (3-5) seconds, just long enough to slightly soften it.
Remove the fudgicle from the stick into the bowl. Add the peanut butter and cool whip and stir completely.
Cover bowl with plastic wrap and freeze for at least 1 hour. Remove and enjoy!
Taste almost as good as the real thing!
**You can substitute mini chocolate chips, or chopped almonds, etc for the peanut butter.