Chowyunfat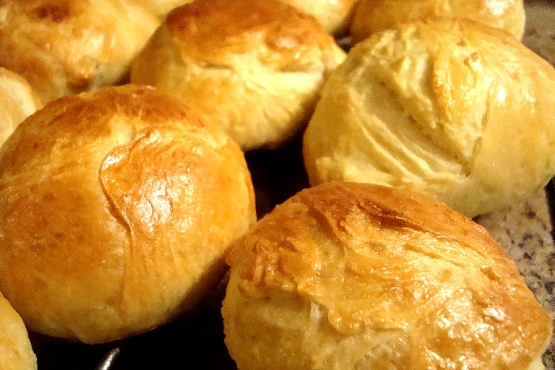 Another great recipe to use your starter. I have no idea where this recipe originated. Based upon Nimrod's review and beautiful photo I am revising this recipe.

I created an account just to rate this. This is an awesome recipe. I followed it mostly as written, except I used only unbleached bread flour, no whole wheat. I prepared the dough in a bread machine on the dough cycle, I started with 4 cups (actually, weighed out 20 oz) of flour, and had to add around a half a cup more during the kneed to get it to the right consistency. The sourdough was a very active San Francisco culture I've been growing for a few months. Be forewarned -- as others have said the dough is *very* sticky, so it is best to powder it and the board with flour before punching it down. I divided the dough into fifteen rolls, and set them out on a parchment paper lined cookie sheet to rise for about 40 minutes. They baked for about 21 minutes at 375F (still on the parchment paper and cookie sheet) and were brushed with butter after fifteen minutes. I let them cool completely before serving, and used them for sloppy joe sandwiches. It is hard to overstate how awesome these were.
Lightly oil a 9 x 13 inch pan or line with parchment paper.
In a large mixing bowl combine starter, water, yeast, salt, sugar and oil.
Stir in flour, adding flour 1/2 cup at a time until dough is manageable.
Turn out onto a floured surface and knead well.
Place dough in a bowl and cover, set in a warm place to double in size.
When double, punch dough down and with lightly floured hands, form into rolls.
Place on prepared pan and let rise until doubled then bake approximately 20 minutes in a 375 degree oven.
Last 5 minutes of baking, brush with melted butter and return to oven.