Sommer's Chicken Spaghetti
Noo8820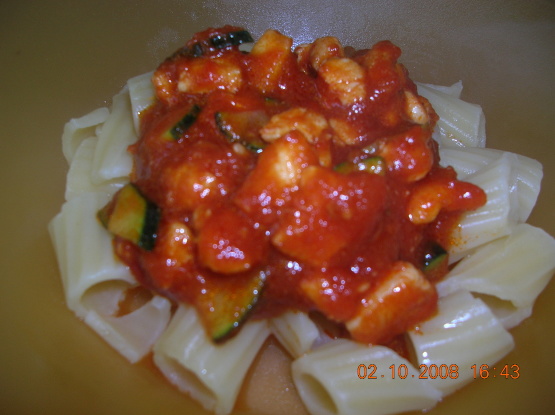 About a month ago I was stranded at the end of the month with very little in the pantry and no money so I scrounged up this recipe with leftovers and bits and pieces I could find. I haven't found a recipe quite the same as this one on Zaar as of yet. I am hoping that I can remember how I made it. I think it turned out really well and am annoyed with myself that I forgot to post it right away. My bf also enjoyed it. This would serve 1 to 2. Everything is an estimate. Hope you find this recipe's simplicity satisfying as well as tasty. Also, feel free to add additional veggies like chopped onions, green pepper, celery, carrots etc., just adjust cooking time as necessary. My pantry and fridge were really bare so I had no yummy veggies to add at the time I made this. FYI Zaar is having difficulty recognizing the ingredients as I listed, so sorry for any confusion on the nutrition facts. It took me 3 tries for Zaar to recognize 'beonless, skinless chicken breast' so I had to reword it.

Top Review by lolsuz
This is such a good, tasty recipe... and quick and easy too. I've been making a version of this for years. I would give one tip: make this in a pressure cooker if you have one. I use skinless chicken breast WITH the bone still in, and cook them whole in the sauce in my pressure cooker. Bone-in meats always have more flavor, and the pressure cooker is the best way to get the most flavor out of those ingredients.
1⁄2 lb chicken breast, cut into bite-size pices (I used 1 large boneless, skinless breast)

14

ounces spaghetti sauce (I used Prego Mushroom Supreme and all I had was 1/2 of a 1 lb 9.75 oz jar)
1 1⁄2 teaspoons jarred minced garlic (equivalent to 3 garlic cloves)

1

teaspoon olive oil
water, for boiling spaghetti
salt, to taste
Heat olive oil in large skillet.
Add chicken pieces and garlic and saute on medium-high to infuse garlic into the oil and until chicken is no longer pink. Do NOT drain.
Dump in the half jar of spaghetti sauce over the chicken and olive oil/garlic. Stir and bring to a boil. Turn heat down to low and cover and simmer, stirring occasionally.
While spaghetti sauce is simmering, prepare your favorite pasta. I used thin spaghetti. Bring a large pot of water to boil, add a bit of salt, add pasta and return to a boil, stirring occasionally until al dente, or preferred tenderness.
After pasta is cooked to desired tenderness, drain. Serve spaghetti sauce over hot, cooked spaghetti.