Solo Italian Sausage and Pasta Medley

This quick Italian Style dish will provide a nice meal for one, or with a green salad, a light lunch for two. I found pre-cooked Italian sausage packaged for use on homemade pizza in a grocery store, but uncooked links or bulk sausage could also be cooked in advance and add to this colorful dish.
Directions
Place pasta in 2 quarts of salted water and cook until soft, which should take about 10 to 12 minutes.
Chop the pepper and onions into half inch pieces and saute in olive oil.
After 5 minutes, add the garlic, basil, and the tomato sauce and simmer until it starts to thicken.
If the sauce become to thick, add a little of the water from the pasta.
Add the precooked sausage to the vegetable and sauce mixture, and stir over low heat while waiting until the pasta is done.
Add drained pasta to the pan, stir, check to see if salt is needed, and plate.
Serve with grated parmesan cheese.
Most Helpful
This was a great recipe and was easy to make for a beginner. I've never made a sauce this chunky before, but have wanted to for a while. An added bonus is the simple ingredients. I used Ragu chunky garden style sauce, my favorite.
Quick, easy, and a hit with the family. The only thing I added was 1/4 teaspoon of Italian Seasoning and it was delicious.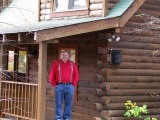 This was a very wonderful meal! I made with the exact ingredients listed. I will definitely make this again. Thanks!