Solar-Powered, Sun-Brewed Iced Tea
Debber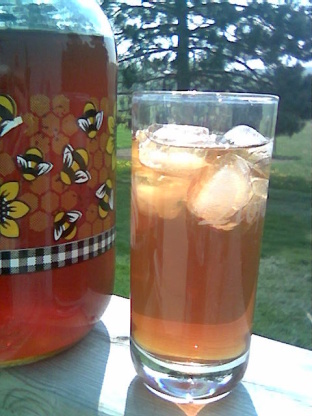 Do your part to "save energy"! Make some passive solar-brewed iced tea. Mix-n-match your flavors according to your own taste buds!

My husband and I love this especially in the summer. We don't like sweet tea so we leave the honey out.
*Early in the day*: fill a gallon jar with water, tea bags and honey; cover and place jar out in a sunny spot.
Remove from outdoors, shake jug to be sure the honey is well-mixed; remove tea-bags (these can go in the compost).
Place jar in fridge to chill (well, duh!).
Serve over ice cubes or just chilled.
VARIATIONS: If you're using unflavored tea bags, you can add a flavor by adding several (or fewer) drops of your favorite flavoring extracts to the finished tea: raspberry, orange, blackberry or a combination.
MONEY-SAVING HINT: Leave the honey out and let everyone add their own sugar when they're served.