Snooty Modern French Toast
Rita1652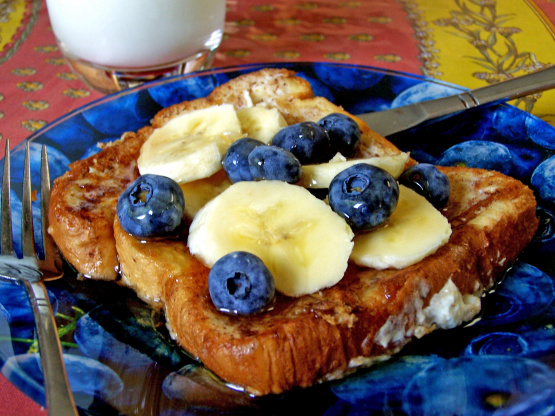 Old-style French toast is too decadent to fit into most diets, especially them snooty Frenchmen. So here's my favorite way to make my cake and eat it too. I use Arnold's 100% whole wheat, which soaks up the mixture beautifully and, with each slice having 90cal, 3g fiber, and 4g protien, means two slices stack up pretty well against your favorite health cereal.
Top Review by Ilysse
We all enjoyed this even DH who doesn't like whole wheat bread very much. I served banana smoothies along side so I topped these with strawberries and kiwi. I liked them drizzled with honey, our 6 year old liked them as is and DH and the 9 year old liked maple syrup. Fruit syrup would be good with these too and so would yogurt. Thanks for posting, I'll be making these again.
Spray and begin heating a nonstick skillet on med-high.
Whisk together egg whites, spices, vanilla, sugar (if using) and milk in a bowl or small dish.
Slice your bread however you desire.
Dip and soak your bread until most of the mixture is absorbed (it should be a little soggy).
Cook bread slices on the skillet, flipping two or three times, until nice and crispy on the outside. This may take up to 4-6 minutes per side, since the bread has absorbed more than normal french toast bread.
Put banana slices on top of bread, and, if you feel like adding the calories, a bit of maple syrup.