Smoked Salmon W/ Chili Corn Fritters and Sour Cream Dip
GaylaJ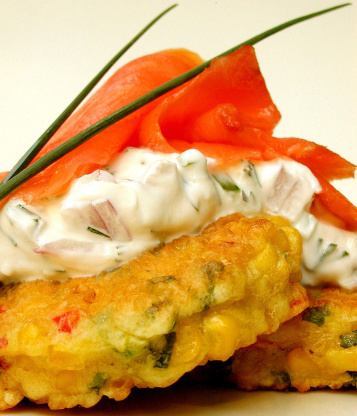 This was in one of my Australian Cookbooks, I'm not even sure which one! (I have lots) This makes a great appetizer, or a great lunch. Even a light dinner with a salad!

Top Review by GaylaJ
Fabulous! My ears of corn were rather small, so I used two, and the amount seemed perfect. I cooked the ears in their husks first, then cut the kernels from the cobs. Unfortunately, I couldn't get my hands on a red Thai chile and had to sub with a green serrano. I also threw in a red jalapeno for color and a little extra flavor. I don't keep self-rising flour on hand, so I added appropriate amounts of baking powder and salt. We really enjoyed this lovely appetizer--thanks for posting!
Combine sour cream, onion, chives and dill in a small bowl. Cut the kernels from the cob and microwave until just tender, drain on paper towel.
Combine the egg, and flour in a small bowl, gradually stir in the milk. Add corn, chili and coriander and stir to combine.
Heat oil in a frying pan and cook heaped tablespoons of corn mix one at a time, press them down a little to make a "pancake", until browned on both sides and cooked through. Drain on paper towels.
Place two fritters on each serving plate and top with equal amts of sour cream mix and then the salmon slices.