Smoked Salmon Potato Cakes With Garlic Cream
twissis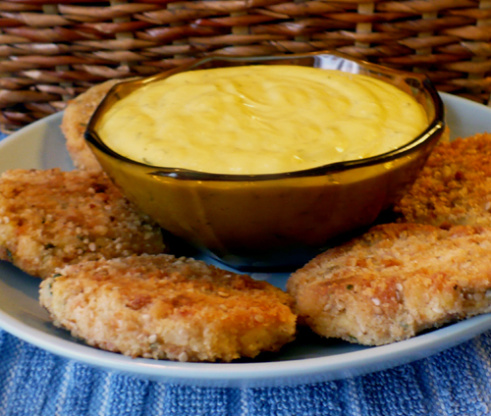 Make these lovely cakes with good quality floury potatoes, the garlic cream is a must.From Feasts by Silvena Rowe

These were a little fussier than other salmon cakes I've made but very good. The garlic cream was excellent. Made for ZWT6.
To make the garlic cream squeeze the garlic out of each clove into a food processor.
Add the eggs and lemon juice.
Add the olive oil gradually in a thin stream with the motor running until the mixture thickens.
Season to taste with slat and pepper, add dill and refrigerate until needed.
Cook potatoes in boiling water until almost done, cool and then grate them into a large bowl.
Mix the salmon, parsley, egg and onions into the potato, season with salt and pepper.
Shape into 12 small cakes; mix the breadcrumbs with the sesame seeds and coat the cakes evenly with them.
Sauté the cakes on medium heat in a little oil until browned and cooked through, about 5 minutes each side. Serve hot with garlic cream.