Bergy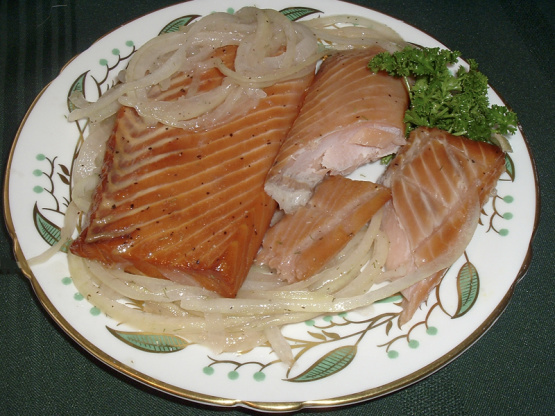 Our son catches it and smokes it, we pickle it, a wonderful combination of tastes! Serve alone or on buttered rye bread rounds as an appy or starter. Looks great on a buffet table.

Top Review by Bergy
Love this recipe. I put all the ingredients in a zip lock bag, surrounded the fish with onions and the brine and flipped the bag everytime I opened the fridge. The paler picture shows the salmon just as I was putting it into the brine the darker one on the plate shows the cured salmon. This was part of my fish course on my Christmas Eve Smorgaasbord. ( I also served Herring titbits, anchovies and Herring cured in wine) I was a little slow in getting it started only 4 days before serving it but it still had wonderfujl flavor. The left overs went back into the brine until New Years Thanks Derf - great recipe
In a medium deep ceramic bowl, just wide enough to hold a slice of smoked salmon spread out flat.
Divide the onion slices into separate rings and arrange alternate layers of smoked salmon and onion in the bowl.
Combine the oil, wine vinegar and garlic in a separate bowl and whisk well.
Season with salt and pepper and add the bay leaf.
Pour the marinade over the salmon and onions, cover tightly and leave to marinate in the refrigerator for 8 to 12 days.
When serving, drain off the marinade and garnish each salmon slice with onion rings, bay leaves, fresh dill or both.