Smoked Salmon Frittata Triangles
ImPat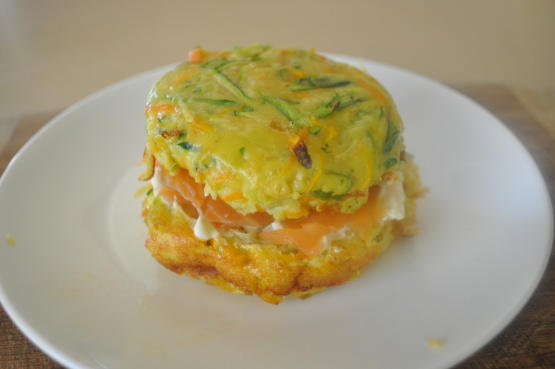 I found this in a magazine. I'm storing it it to make at a later date. A lamington pan is a shallow baking tray 19cmx30cm or or approximately 7 1/2 in x 12 in. Shaved ham or turkey could be used instead of the salmon and you could cut the triangles in half again to serve with drinks.

Top Review by ImPat
Absolutely delicious. I scaled this back for 1 serve and divided the mix between 2 round greased ramikins (would advise puting down a round of baking paper as I did have 1 stick a little and nearly ended up with a broken mess), baked for 12 minutes at 170C fan forced oven. Once cooled I just went to step 5 and assembled my 2 rounds and served with a salad for a delicious lunch. Thank you JustJanS, made for Make My Recipe - Edition 16.
Grease a lamington pan and line the base and sides with greaseproof paper extending it 2 cm over the edges of the pan.
To make the frittata, whisk eggs and cream cheese in a large bowl until combined. Mixture will look lumpy. Add the remaining ingredients: using a wooden spoon stir well. Pour mixture into prepared pan.
Cook uncovered in a moderate oven for 30 minutes or untio browned and firm to touch. Leave in the pan for 5 minutesthen lift onto a large tray and cool.
Meanwhile, place cream cheese, juice and chives in a bowl. Beat with electric mixer until creamy, season with salt and pepper.
To assemble triangles, cut frittat in half lengthways to for two rectangles. Spread one half with the cheese mixture then arrange slamon slices over cheese. Top with other half. Cut into three squares, then cut each into 4 triangles.