Smoked Salmon and Caviar Salad
Peter J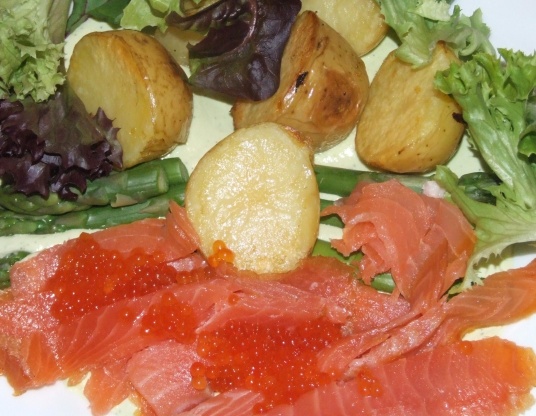 This is such a classy meal, it looks fantastic and the flavours are wonderful. We've had it as a brunch for two. I've increased the quantities and had it as meal for 4-6, or it can be served as a starter.

I was so close to posting this before but never got around to it. I'm glad you have posted this, this is a regular in my house. Very fresh and perfect for summer. Thanks for posting. Miss Pixie x x x :D
Boil, steam or microwave potatoes until just tender; drain.
Preheat oven to very hot.
Halve potatoes, place, cut-side up on lightly oiled oven tray, drizzle with oil, bake for 15 minutes or until crisp and brown, turning occasionally.
Boil, steam or microwave asparagus until just tender, drain, cut spears in half crossways.
Cut salmon into strips.
AVOCADO PUREE.
Halve avocado, discard stone, scoop out flesh, blend or process avocado and remaining ingredients until smooth.
Divide avocado puree among serving plates, top with potatoes, mesclun, asparagus, smoked salmon and a good dollop of caviar.