Smoked Norwegian Salmon Dip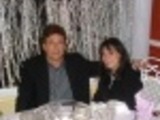 This is a dip with great Scandinavian taste that you can throw together 1-2-3! You can add a small, seeded, and finely chopped cucumber for a slightly different taste. Or, you might want to cover the dip with chopped fresh parsley or pimento. Serve it with rye or pumpernickel bread or your favorite crackers.
Directions
Mix all of the ingredients together in a large bowl. Using a hand mixer, blend with on and off pulses until the mixture is workable, then blend on low speed until the mixture is smooth and well mixed. Cover and chill until ready to use. Serve chilled or at room temperature.
Reviews
Most Helpful
This was very tasty. The balance of cream and cream cheese gives it a nice texture. Made for ZWT9 Tasty Testers.

This made a nice smooth spread, much enjoyed! Yum! Made by a Looney Spoon Phoodie for ZWT#6.

Great flavor! This was part of our Scandi smorgasbord and all loved it. I did add some finely chopped red onion, chilled it, then served at room temp. Thanks Jackie. Made for ZWT 6.