Ms B.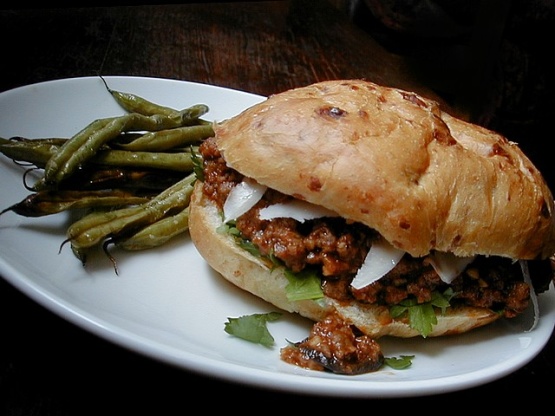 From the May issue of Everyday with Rachael Ray. This is a Spanish version of an American classic. I love the kick of Rachael Ray's Super Scrumptious Sloppy Joes and reach for that recipe often, but this is something just a little different for an easy dinner.

We thought this was fabulous! I admit, I left out the mushrooms, but I really didn't miss them at all! Using ground turkey for the meat didn't affect the taste at all, either. So easy to prepare and it made enough for 6 people! Thanks for posting this recipe; you beat me to it!
In a deep skillet, heat olive oil over medium heat.
Add the garlic and onion and cook until softened, about 4 minutes.
Add the mushrooms and cook until browned,about 5 minutes.
Add the beef and cook, breaking it up with a wooden spoon, until browned.
Season with salt and pepper.
Stir in the sherry and cook, scraping up any browned bits from the bottom of the pan,until slightly reduced, about a minute.
Stir in the tomato and Worcestershire sauces and simmer for 10 minutes.
Preheat the broiler.
Spread the butter on the rolls and toast.
Sprinkle the parsley on the roll bottoms and pile on the beef mixture.
Using a vegetable peeler, shave the cheese over the meat.
Set the roll tops into place and enjoy.