Simply Baked Chicken Parmesan
Boomette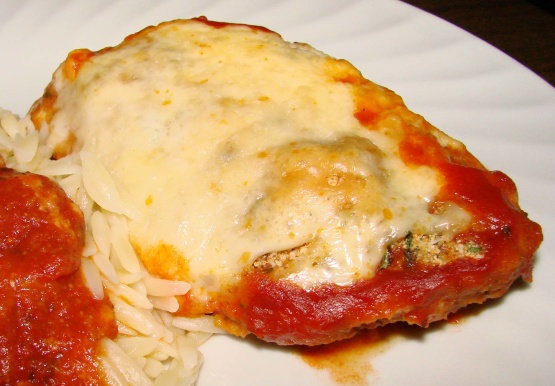 This is an easy chicken parmesan that is completely baked in the oven - no browning in oil. I do use a tiny spray of margarine over the top before baking.

Great recipe. Very easy to make and the family all loved it. I did only 2 chicken breasts with one egg and 1/2 cup breadcrumbs. Kept the sauce and the cheese the same. Also put melted butter in the pan and drizzled some on the top of chicken. Will be making again! UPDATE: Made this for 60 people at my church for a fundraiser dinner. I had to have it done kind of early so didn't cook it all the way through, just most of the way. I kept all of that chicken warm at 200 degrees without sauce (we didn't have enough room in the ovens for that) for about an hour. It said moist! We sauced it whlie serving and just about every plate came back empty!
Preheat oven to 350 degrees Fahrenheit.
Dip each chicken piece into eggs; coat with bread crumbs.
Place into casserole dish (sprayed with nonstick spray).
Bake uncovered for 30 minutes.
Remove chicken and pour marinara sauce into bottom of dish.
Lay chicken over the sauce and sprinkle the two cheeses on the pieces of chicken.
Bake an additional 20 minutes until cooked through.