Simple yet Elegant Babylonian Apricot Jewels
Rita1652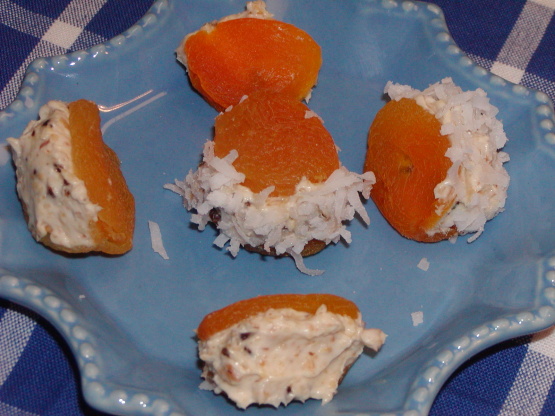 Created for RSC #6. Okay, I have a confession to make here. This recipe is not entirely my own original creation. I was discussing the contest over the phone with Sushiman, and being a fairly decent cook himself (okay, an amazing cook), he started coming up with a recipe on his own. With a little tweaking by yours truly, I think we have come up with something wonderful together.... This can be cute little finger food to serve at a party, or part of a dessert plate. As an appetizer, leave out the powdered sugar. If serving as a dessert, bring it on!

Top Review by Mme M
This is a fabulous recipe. If you don't want to stuff apricots, use this as a cake filling, it is very, very good. I used Monbazillac sweet white wine...next time I may use a creamy liquer, or Cointreau. Also, for part of the recipe, I used dried strawberries, and this was really, really good!
Mix the cashews, raisins, white wine, lemon zest and cream cheese and powdered sugar until it forms a paste.
You can do this in the food processor to really mix everything together.
Take one apricot, and spread some of the cheese on it, nice and thick.
Cover with a second apricot.
Do this to make a total of 16 "sandwiches".
Sprinkle or roll in powdered sugar.