karenury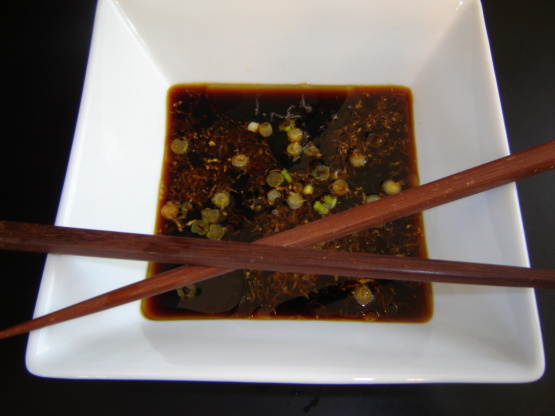 An easy to make all-purpose soy dipping sauce for dumplings, potstickers, egg rolls, lettuce wraps, fondue dip, and cooked meats such as chicken wings and seafood. I make it and use a funnel to put the sauce into an empty glass salad dressing jar but any other jar would do.From an old magazine clipping.

There were only two things about this recipe that I regretted. First, I forgot to buy green onions (which I happen to love in my Asian dipping sauce) and second, there was not enough of this sauce for the 20 egg rolls I made. Really fantastic, enhanced the flavor of my egg rolls and put them over the top. BF liked it very much too. Thanks foodtvfan!
Combine all ingredients thoroughly.
Add a pinch of hot red pepper flakes if you like heat.