Simple Sliced Tomato-And-Cheese Side Dish
Zurie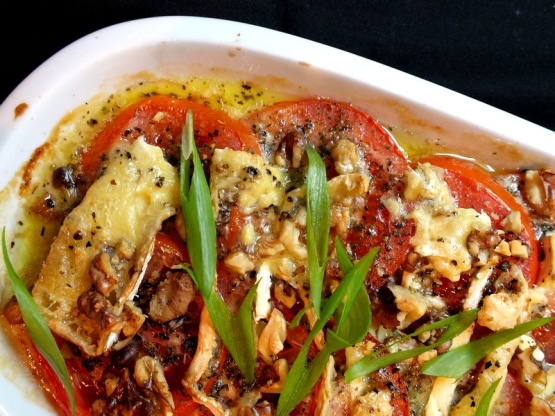 This is so simple, it's hardly a recipe at all! This is nice as one of the sides with roast chicken. As time is sometimes too limited to stuff a tomato, try this quick dish. ANY cheese which melts well and does not go gluey will be fine. Calculate on 1 large tomato (fist-size or larger) per portion. This recipe is for 3 people.

Really terrific! Like loof, we had it as a main dish with salad on the side. I used store bought gluten free bread which worked very well, got all crisp and utterly yummy. For the cheese, I used an aged sheep brie, which we both agreed is perfect for this dish. Will make it definitely again! Thanks for sharing :)<br/>Made for the Cook-A-Thon in memory of Gideon
4 -6

large tomatoes, ripe

1

teaspoon dried basil (keeps its flavour slightly better than fresh)
1⁄2 teaspoon flaked sea salt (to taste)

4 -6

tablespoons tomato ketchup (made with real tomatoes)

4

ounces brie cheese (any flavoursome cheese which melts well) or 4 ounces camembert cheese (any flavoursome cheese which melts well)
1⁄2 teaspoon black pepper, coarse (or more)

1

red onion, thinly sliced

4 -6

tablespoons virgin olive oil (or more, if wanted)

3 -4

slices bread, pref. white, crusts cut off
Heat oven to 350 deg F/180 deg C, or less for a fan/convection oven. Line a dish with baking paper to save on the washing up!
Slice the tomatoes fairly thickly, and arrange one overlapping layer in the dish. Sprinkle with basil, sea salt and coarse black pepper. Drizzle over about 2 - 3 tablespoons ketchup. (This intensifies the tomato flavour).
Slice the Brie (or any cheese you chose, but if using mozzarella consider more seasoning because mozz is so bland). Arrange the slices over the tomato slices.
Add a 2nd layer of sliced tomatoes, and season like the previous layer.
Add all leftover cheese, and use more if you like, and sprinkle with coarse black pepper to taste.
Drizzle with olive oil. Slice the onion thinly and put rings and slices all over the dish.
Now arrange the crustless bread slices over the tomato dish so that the top is completely covered. You may have to cut the bread slices to fit. Sprinkle liberally with olive oil.
Bake the dish for about 20 - 25 minutes, until the bread topping is crisp and browned.
Yes, tomato liquid will form in the bottom of the dish -- dip extra bread in it, or drink it with a spoon because it's delicious!