diner524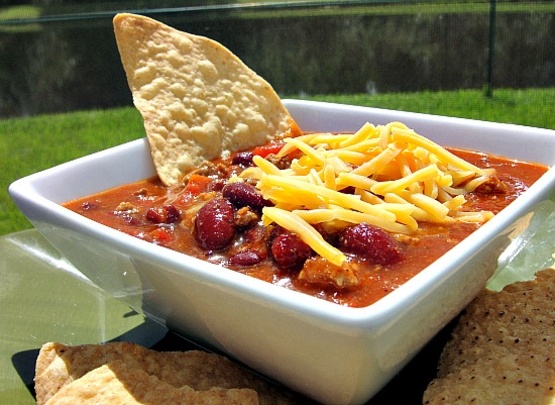 This is a recipe by Ree Drummond (The Pioneer Woman) on Food Network. Saw her make this one Saturday morning and it looked so easy and tasty...and it is!!
Loved this chili!!! I read the two other reviews and wondered if something was missing, as I think I saw this show as well. I found a couple of bloggers that posted her recipe for the chili from her actual cookbook. It listed that there are optional ingredients; add a can of diced tomatoes & chilis (rotel was suggested) and a jalapeno - sliced, were the two other ingredients not found on foodnetwork.com. I made 1/2 of the recipe, just the two of us and made a couple of changes. I used 1/2 chipotle chili powder for half of the chili powder and the other 1/2 just regular chili powder, omitted the cayenne pepper because of the chipotle, use all kidney beans (what I had on hand) and did add the optional masa mixed with the water. For me, it made a thinner/soup type of consistency and not too thick for my tastes. Thanks for sharing the recipe and congrats on your win in the football pool!!!
Place the ground beef in a large pot and throw in the garlic. Cook over medium heat until browned. Drain off the excess fat, and then pour in the tomato sauce, chili powder, cumin, oregano, salt and cayenne. Stir together well, cover, and then reduce the heat to low. Simmer for 1 hour, stirring occasionally. If the mixture becomes overly dry, add 1/2 cup water at a time as needed.
After an hour, place the masa harina in a small bowl. Add 1/2 cup water and stir together with a fork. Dump the masa mixture into the chili. Stir together well, and then taste and adjust the seasonings. Add more masa paste and /or water to get the chili to your preferred consistency, or to add more corn flavor. Add the beans and simmer for 10 minutes. Serve with shredded Cheddar, chopped onions, tortilla chips and lime wedges.