Simple Chili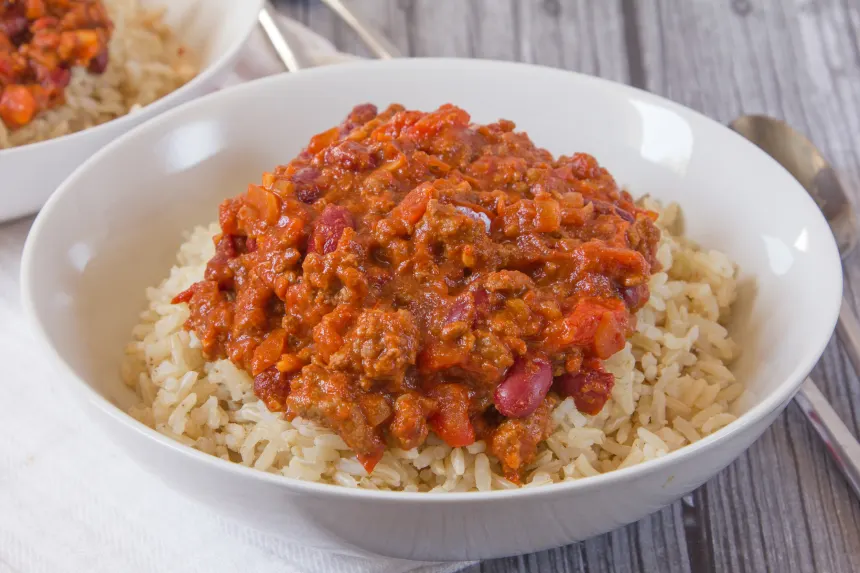 photo by anniesnomsblog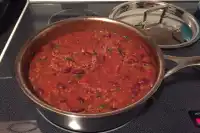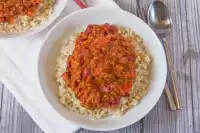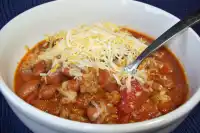 Ready In:

1hr 20mins

Ingredients:

10
directions
Cook beef, onion and garlic in 3 qt saucepan until beef is brown.
Stir in remaining ingredients except beans.
Heat to boiling, reduce heat to low.
Cover and simmer 1 hour, stirring occasionally.
Stir in beans.
Heat to boiling, reduce heat to low.
Simmer uncovered about 10 minutes, stirring occasionally, until desired thickness.
To freeze for OAMC: Let chili cool to room temperature and then place into quart-size freezer bag. Remove air and freeze flat on a cookie sheet. Once frozen, can be stored in freezer standing up or stacked horizontally.
To serve, thaw in fridge overnight and then transfer to a pot and reheat over medium low heat until heated through.
Reviews
I made this again last week and followed the recipe exactly, with the exception of using a bit of garlic powder. Pinto beans were the bean of choice. It was delicious! I am so tired of all the unkind, negative reviews left. On my original review, I used up odds and ends of things that needed using up. One reviewer said my substitutions made her ill. (you can read her reply below). I noticed another review saying this was the white bread of chili. Some of us don't have unlimited time or resources or even energy. I am an old woman with bad knees and cooking something decent in a short period of time is a huge plus. You could use more chili powder, but you run the risk of getting a bitter undertone. Please, all of you negative reviewers out there; if you aren't going to make it, then don't leave a negative review. If you make it and it doesn't please you, then simply say so. I have made a lot of recipes on this site that really didn't suit me. I don't leave a bad review, I just make a note to never make it again. Food is like art and love, it is all in the eye of the beholder. I can see why this recipe got the "Community Pick" award. It really deserves it! Lucid501, thanks for the GREAT post!

 

My husband requested I make Chili. I?ve never made it before as this is not a well known dish/spice in England. I have promised myself only to use the ingredients I have on hand, no running to the store for extras, so I looked for something fairly basic and easy and found this recipe. I followed it exactly as written. I was very hesitant to add ALL the unfamiliar spices it called for: a table spoon of chili powder and ¾ tsp of ground cumin? It sounded like a lot, so I added them gradually testing and tasting until I reached the full amounts. Yes, I needed them all. I?d never tasted chili before making this recipe and this was very tasty. However, I felt it still needed a little something, so I added a ¼ tsp of crushed red pepper flakes. WOW! That slight tweak pepped up this dish for the two of us, allowing all the complex flavors to burst out. We ate the whole thing in one sitting with bread and butter! Definitely a recipe to hold onto and repeat often. eestilady

 
Tweaks
There are only 2 of us, so I halved this and used ground turkey. We also like it spicier, so I kept adjusting the chili powder and cumin. This was a last minute idea, so I didn't have a can of diced tomatoes. As a substitution, I used half of a jar of salsa and some additional water. I left it simmering a little too long, and it got a little too thick. Instead of using more water, I added a 12 oz can of tomato juice to thin it out a bit. That probably would not have been an issue had I used the 14 1/2 oz. can of diced tomatoes called for. People are extremely serious about their chili in Texas (cook-offs and all). I'm not that picky and this is a very nice chili that uses common pantry ingredients and is very adjustable. It will probably be my "go to" recipe from now on out. Lucid501, thanks for the recipe!

 

I usually make a double batch each time and instead of 2 cans diced tomatoes I use 1 van of crushed tomatoes and 1 can of diced tomatoes with chili's. Also, for each regular size batch, I add in 3 jars of baby food (1 carrot, 1 squash, 1 sweet potato). It adds a sweet note to it that really improves the flavor. You could, of course, just dice or mash them, but my kids don't know there are veggies hidden in there if I use the puree.

 
RECIPE SUBMITTED BY
<p>My husband and I have been together for over 10 years, married for 5. My husband is in school for his PhD in Math, and I have my Master's in Library Science. We have a 1 year old son.<br /> <br />I love cookbooks, and have a ton of vintage ones dating as far back as the 1920's. When DH's grandmother passed away, I inherited all of her cookbooks and recipes, and for Christmas we created a family cookbook using scans of her recipe cards. <br /> <br />&nbsp;<br /> <br /><a href=http://www.TickerFactory.com/weight-loss/wkFsIi2/> <br /><br /></a></p>
View Full Profile