flower7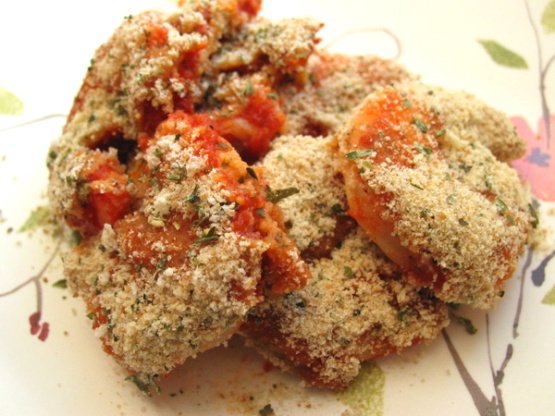 Great Italian shrimp recipe. One of my favorite ways to make shrimp.

Another yummy recipe from the Captain! I cut this recipe in half and baked in a 13x9. I decided after spreading 1/2 cup marinara over the shrimp that it wasn't enough so added another 1/2 cup. I also reduced the red pepper to 1 tsp for the half recipe (and it was plenty hot with that much!). The only other change I made was leaving out the oil, but only because I forgot it - and I didn't miss it until I went to write this review. Thanks so much for the recipe!
Grease a baking dish large enough to hold the shrimp in a single layer.
Mix the breadcrumbs with the seasonings. Sprinkle about half the breadcrumb mixture in the pan and arrange the shrimp on top.
Spoon the sauce on top of the shrimp and then sprinkle on the remaining breadcrumbs.
Drizzle with the olive oil.
Bake at 350 degrees for about 20 minutes until the top begins to brown.