iris5555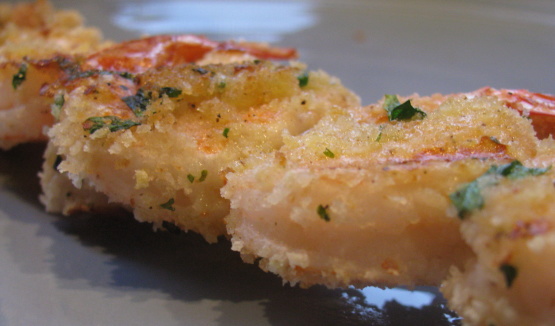 This appeared in a local newspaper. I believe it is from a local cafe. I have not personally tried it and am placing it here for safe-keeping.

Top Review by karynp
These were really good! A little bit messy to make but worth it. I used less oil, just enough to coat, & I did have smaller shrimp then "jumbo". A mixture of crumbs & panko (1/2 & 1/2) & a bit of parm. cheese, (I added some spices I like too, dill for example) - Breading was the messy part, it was easy to rub off the coating- but I ended up skewering first (don't crowd them so its easier to coat) and then sprinkling the breading on them over a bowl. Also it wasn't bbq weather so I broiled til done. I used less butter as well just a litttle drizzle. Delicious!
Peel and devein shrimp, leaving the tails if desired. Rinse well and set aside in shallow boil with olive oil.
Combine breadcrumbs and salt, pepper, garlic, onion and parsley in large bowl.
Add shrimp to seasoned breadcrumbs and toss until well coated. Place six shrimp per skewer.
Place on a grill and cook until opaque.
While shrimp are cooking, melt butter with lemon juice. When shrimp are finished, remove from skewer and top with lemon butter. May be served with rice, noodles or sauteed veggies.