Shrimp and Goat Cheese Grits
twissis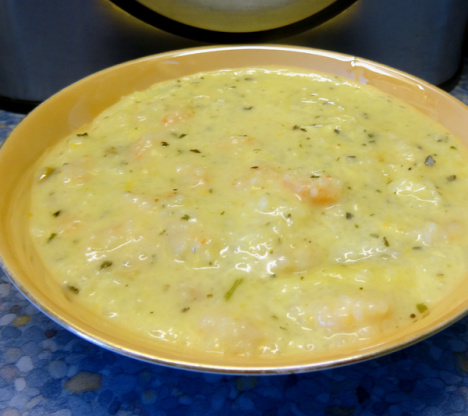 This recipe was demonstrated at the 2008 Pensacola Seafood Festival by Chef Jim Shirley of the Fish House Restaurant. If you don't like goat cheese, feel free to substitute any cheese that you like. I've never had anything that Jim Shirley prepared that wasn't delicious!

Made for the FYC Tag Game @ FF&F & for my weekly family brunch. When I fix several recipes for a grp of guests, trying to get everything prepared, photographed & ready-to-serve at the same time is my challenge. So pls forgive that I made some chgs to help that happen. I used Icelandic baby shrimp as they're more available, less expensive by far than the larger prawn size & much easier to just add to the grits & serve in "casserole form". I also used 4 cloves of finely minced roasted garlic I had on-hand after roasting 5 heads of garlic. All that said & done, I took a photo of my serving & let my guests help themselves at the table from the casserole. It was perfect - Warming, creamy, well-seasoned & well-received. Thx for sharing this recipe w/us.
Add stock to a medium saucepan or large skillet and bring to a boil. Stir in the grits and continue to stir for approximately 4 minutes, then reduce heat to a simmer. Add cream as needed to keep the grits moist.
Place shrimp in a large ziplock bag with the garlic, red pepper flakes, salt, pepper and lemon zest. Make sure the spices are mixed well and coating the shrimp, then place the bag in the refrigerator to marinate for 20 minutes.
After the 20 minutes are up, add butter, goat cheese, parsley and basil to the grits. Stir and add salt and pepper.
Heat a saute pan to medium high heat. In a little butter, add shrimp (including the marinating mixture) and saute for 5 minutes, or until shrimp are opaque and form a "C". Do not overcook the shrimp!
To serve, spoon grits onto a serving plate, and add 4 shrimp and some liquid from the saute pan on top of the grits.