rpgaymer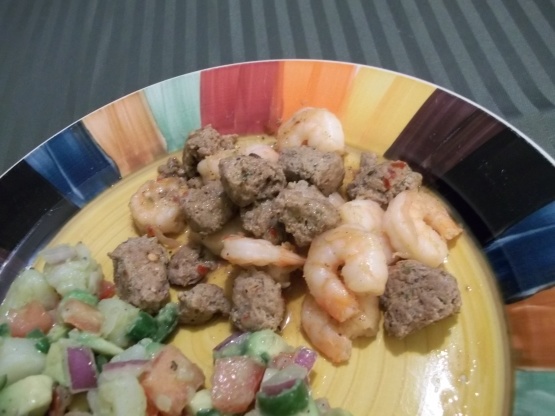 Courtesy of Everyday With Rachael Ray.
This was a great recipe. I made my own lean turkey chorizo, and skipped the bread, so it turned out to be a low-cal, flavorful main dish. I especially loved how spicy it was, and how quick it was to prepare. [Tagged, made & reviewed in Please Review My Recipe]
In a large skillet, heat 2 T oil over medium heat.
Add the chorizo and cook, stirring, until lightly browned, about 4 minutes.
Using a slotted spoon, transfer to a paper-towel-lined plate.
Add the remaining 2 T oil, the garlic and red pepper flakes to the skillet and cook, shaking the pan a bit, until the garlic is lightly golden.
Increase the heat to high, add the shrimp and stir to coat.
Add the wine and cook, stirring, until the pan is nearly dry, 2-3 minutes. (You do want some pan juice for the finished dish.).
Return the chorizo to the pan, season with salt and pepper and sprinkle with the parsley.
Cook until the chorizo is hot and the shrimp is opaque, about 2 minutes.
Place the toasts on 4 plates. Spoon the shrimp, chorizo and pan juices on top.